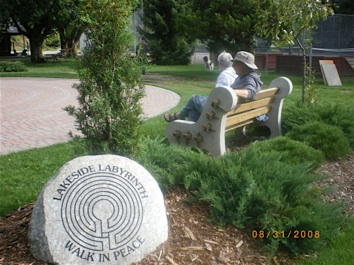 The labyrinth is located in Nelson, BC's
"Lakeside Rotary Park".
If you are new to Nelson
look for our most noticeable landmark,
the big orange bridge.
The park borders the bridge,
and can be reached by turning west from Nelson Avenue onto Kokanee.
Free parking is available near the park entrance,
and along the side roads bordering the park.
The labyrinth is near the middle of the park,
close to the Rotary area
and the tennis and bocce courts.
The labyrinth is wheelchair accessible.
Public washrooms are nearby.
The park has a wonderful beach,
great gardens,
an organically focused concession stand,
and a children's playground.
The orange bridge is an easily found landmark.
Once you're there, the labyrinth is within the park,
beyond the concession, playground, and Rotary barbecue area.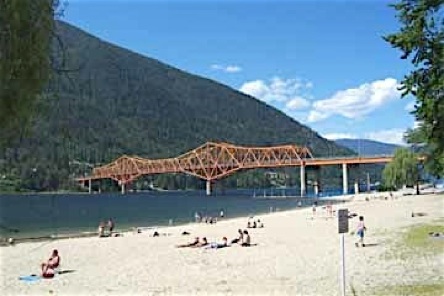 Check out these sites for learning about and getting to Nelson.
discovernelson.com
ilovenelson.com
nelson.ca
Or you can ask our dear friends at Gaia Rising on Baker St.
as did Malia from Minnesota.
see testimonial below